Spring Cleaning! Tips To Improve Your Housekeeping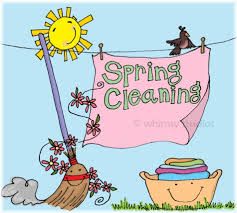 Spring is here! And we all know what that means. Spring cleaning! Out with lingering dust-bunnies, smeary windows and grimy corners. The time has come to make the house sparkling clean for summer. Now the question with anything in this busy world is: What is the best way to start?
  Should the the rooms be cleaned individually from top to bottom? Or maybe it's better to do one task at a time?(Washing windows, washing all the floors, vacuuming the corners, etc) Ultimately whatever way if most effective is the best method. Whatever way helps you get it done.
  Assembly line style is a method to consider when doing your deep clean, housekeeping. Separate things like floors, dusting, washing windows into tasks and then do them all at once. Wash all the windows one day, and maybe clean all the floors. Arrange it how you like – floors then windows, dusting then baseboards or vise versa. It can be an effective way to get one section of your house clean. Don't worry about getting everything done in one day. It's good to remember that even little spurts here and there can get a lot accomplished. While you work on a specific chore, try not to get distracted by other tasks that are waiting. For example, if you start dusting don't worry about it falling on the ground because you are going to clean the floors all at once. For some of us who may be a little OCD, you may find that if you complete one task at a time, even if something isn't fixed, or cleaned RIGHT NOW, it will be. Everything will be cleaned in an organized manner (at least) and if not more time efficient it does at least preserve some energy.
  Speaking of an "organized manner," a checklist is a great way to make sure things get done, as well as leaving you with a sense of accomplishment. Here is an example.
1. Dust everything from top to bottom, starting with ceilings and elusive corners. Some people like to dust their walls (this would be next). Now you can move on to flat surfaces and your lampshades.
2. Vacuum or sweep the floors.
3. Vacuum, or wash the vents.
4. Now you can wash your floors.
5. Wash the baseboards.
6. Clean the bathrooms.
Start with the tub or sink then move to the toilet etc.
7. Wash drapes, curtains, shower curtains(– as long as they are washable). It's best to dry on low heat and remove them before they are completely dry. Hang to finish air drying. This will also help them from shrinking and gives you a chance to avoid the ironing board.
8. Rotate mattresses, couch cushions and pillows. You could also vacuum the mattresses and cushions.
  Spring cleaning can be a daunting task, but just remember, you don't have to do it all in one day. Whether you decide to clean room by room or assembly style, enjoy it. Yes enjoy it. Cleaning is something that MUST be done after all, but that doesn't mean we can't have fun and enjoy life while we're doing it. Pop in your favorite CD, grab your iPod or turn up the radio! Dance while you vacuum, and sing while you dust. Be happy! Life is too short to not enjoy the process of any achievement. In this case: A clean home.