What's Your House Cleaning Goal This Week?
This week tackle your house cleaning with a goal in mind. Amidst the busyness of life it's important to have goals. They help ensure you accomplish what you say you're going to get done and what you want to get done. This is especially helpful when cleaning. So set a goal this week! Pick one or two chores or organizational projects that you would like to accomplish. For instance, maybe your bathroom needs a little organization. What about the linen closet? Is everthing neat and tidy? Here are some tips to help you organize your toiletry items and your linen closet.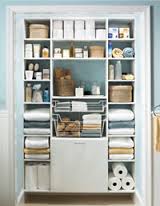 TOILETRIES
An easy way to begin this process is to start in an area that you want to organize and then EMPTY it! Maybe the shower has empty bottles of shampoo or conditioner? What about the cupboards? Are tons of sample-sized tubes, bottles, cases, littering your shelves? Here are few ideas to whip those toiletry items into ship-shape.
Completely Empty The Area -Get everythin out of the shower and cupboards or any other area you are storing your toiletries.

Clean! – Scrub and spray and wipe everything clean!

Garbage Time – Get rid of toiletries that you haven't used lately or don't see your-self using in the future.

Organize – Place like items together. The colossal collection of sample-sized toiletries? Put them in a box, or basket for future travel or guests.
Look into getting some drawer dividers if you don't already have some. They will bcome your friends.
Not Enough Space? –  Try to condense the amount of toiletries down as much as you can (Yes, toss, give away, get rid of, or put it somewhere else) it will make organization and how you retain the system of puttting things away that much easier.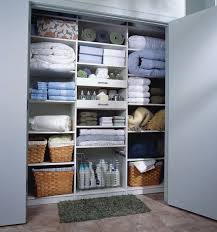 LINENS
Here are a few tricks to Organize your linens. No matter what state your linen closet is in, it's important to take a couple minutes to assess it's needs. Here are 4 things to make your organization easier.
1. Time to donate or repurpose any linens that haven't been used in the last year. Do you really need all those pillowcases? Or that extra 3 sets of sheets? Of course it's good to have an extra set for each bed. But if you don't have any extras, you're one step ahead. 😉
2. You can use a pillowcase to store your folded sheets. Start by folding your fitted sheet into a little square, now wrap your flat sheet around the fitted sheet, tuck a pillowcase in between the flat and fitted sheet and then put that "bundle" into one of the pillowcases from the set. This keeps everything together and it looks tidier on the shelf.
If you have overflow storage use a basket or a bin. A great way to keep the closet/cupboard organized is to contain your linens with a basket or two.
Towels should be folded neatly in the same direction and grouped by type. Once you have this established this look, it really doesn't take any more time to keep your towels this way. Your towels will be easier to locate and you'll love the new look!